Mike over at Alligator Army, SBN's fine Gators blog, and I got together to do a little Q&A on the upcoming bowl game. Sarcasm galore. Enjoy folks!
1. So, this Tim Tebow guy. Who is he? Is he any good?
I've thought about this the entire season and this is the best reference I can come up with; GI Joe action figures were rather small and pretty much looked the same, except in GI Joe or Cobra colors. Then in the early 1990s, they made Guile who was totally different. He was muscular and could crush the Cobra Commander. He was awesome and completely changed how they made GI Joes.
Cobra Commander kicked ass - Ed.
For your readers who didn't play with GI Joe in the early 1990s, Tebow is the real deal. His release could be quicker, but he's got touch and can throw the deep ball. He can be inaccurate at times. That said, he's the best Filipino quarterback ever. Oh yeah, you knew he was born to Christian missionaries in the Philippines and his mom almost died in childbirth, right?
She almost died at childbirth? No kidding? Well I guess that's what happens when you push a Humvee out of your cervix. - Ed.
2. In Florida's loss to Georgia, the Gators gave up 188 yards to Knowshon Moreno and in their loss to LSU they gave up 247 yards on the ground. How'd this happen? Was it a hitting a hot running game or something else in the defense that let it happen?
The front seven relies on speed, not push, which makes them horrible at getting to the quarterback but good at stopping the run. In the LSU game, they ran to keep the ball away from the Gator offense. LSU rotated their backs and was able to hold the ball for almost 22 minutes in the second half.
As for Georgia, Moreno became the second coming of Herschel Walker. Not only did they have a big o-line like LSU, they had the psychological advantage after they celebrated the first TD. Actually, the Georgia game should be what Michigan looks at. Moreno ran over left tackle all day. I think you guys have a good left tackle, right?
3. Realistically, Florida hasn't played a competitive team since the Cocktail Party. South Carolina finished 6-6 with 5 straight losses. Florida State was how-you-say, notsogood at 7-5 and really didn't deserve a bowl game. Florida Atlantic was 7-5 with a signature win over Minnesota. On paper at least, Florida had a better chance of getting robbed by OJ than dropping any of those games. I know for a fact the FSU game was as competitive as an ant versus a magnifying glass on a Saturday in August. I am wrong, or were the games since the Cocktail Party actually competitive and how did they prepare the Gators for the postseason?
First of all, Vandy is very upset you did not mention their horrific outing in Gainesville after the Cocktail Party. As for competitiveness, this whole season has been marked how terrible our defense is. So of our last four, really the only guarantee was the FAU game. Hell, we gave up 31 to Spurrier. But in the FSU game, it seemed like it all came together. The Gator defense is a 'bend don't break' system, and it worked like a charm as they held FSU to 12 points. I hope, like last year, our best defensive game is our last game.
And, I'm not concerned about our offense. Only Auburn can stop us.
Kyle Hates Auburn.
4. Who are the big names on defense? Who are the guys the average fan hasn't heard of that'll make the biggest difference on defense for the Gators?
DEs Derrick Harvey and Jermaine Cunningham are good. Harvey is a NFL-end and Cunningham is undersized but fast. MLB Brandon Spikes is fantastic and he's only a sophomore. The difference is in the defensive tackles and secondary. Our DTs are so bad, our most impressive one is a converted freshman o-lineman (Mike Pouncey). In the secondary, we have SS Tony Joiner, the only senior ever to get worse as he got older. He's more famous for stealing his girl's car from a towing lot. We have a few badass freshmen in FS Major Wright and CB Joe Haden. But like all kids, they will take two steps forward and one step back.
5. Last year's national championship introduced Cheetah/WR Percy Harvin to the national consciousness. Are there any other 5'2" ballistic missiles in the Florida arsenal? Who's going to be the big threat besides Tebow and Harvin?
He was injured for part of the season, so he was over looked, but Bubba Caldwell is a great player. He doesn't have the speed of Harvin, but he's got great hands and is Tebow's go to man within 10 yards. Lou Murphy has also emerged as a deep threat, and he's as fast as Harvin. I also love TE Cornelius Ingram because he is an absolute freak. LBs can't cover him because he's too fast and he's too big and strong for DBs. He's only been playing TE for two seasons (former basketball player and QB), so he's rough around the edges. Ingram leads the team with seven TD catches.
6. Where is the Gator defense vulnerable? According to the stats (86th in pass defense) Florida can't cover a cookie jar (249 yards a game and 16 TDs/9 Ints). Do the stats lie?
No, the defense is terrible. The Gators are running the same defense they had last season. The problem was that they had a first round pick at free safety and end (Reggie Nelson, Jarvis Moss), seniors at corner, and we lost all three LBs. It's not talent that is our problem, it's youth. At least that is what we keep telling ourselves.
7. Tell me a little about the Florida Offense. How does the offense run? Is the Urban Meyer Decision Maker a myth or the real thing?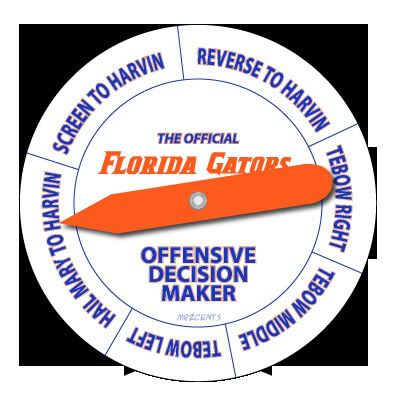 I love this thing
The wheel is hilarious because for a while, that was the offense. In the run game, Meyer really only has faith in Tebow and Harvin. Since there is an unwritten rule to get the ball to Harvin 15-20 times, he is the feature. But when UF struggled in the middle of the season, it was because the passing game went through Harvin. Give Tebow, Meyer, and coordinator Dan Mullen credit for getting the ball to Caldwell, Murphy, and Ingram. Also, look out for Aaron Hernandez, who may sneak out as a fullback and catch some balls. If Tebow is spreading the ball around, while Harvin gets his touches, watch out. Oh, and Harvin is a sophomore too. Imagine him next season.

Thanks again to Mike at Alligator Army for his great responses. Head over there to pick up my responses to his questions when you get a chance.
Mike, I'd say good luck, but I wouldn't mean it. So I'll say what I feel, I hope Tebow gets hit by a bus.