Maize n Preview! A Misinformed 2007 Preview of Penn State Football
University: Pennsylvania State University
Location: State College, PA
Founded: 1855
All Time Football Record: 781-343-43
Team Name: The Nittany Lions
Conference: Big Ten
Number of National Championships: 2
Number of Big Ten Championships: 2
Last League Championship: 2005 (Big Ten Co-Champs)
First Season of Football: 1881 (1-0)
Last Season: 2006 (9-4)
Head Coach: Joe Paterno
Stadium: Beaver (heh heh), capacity 106,537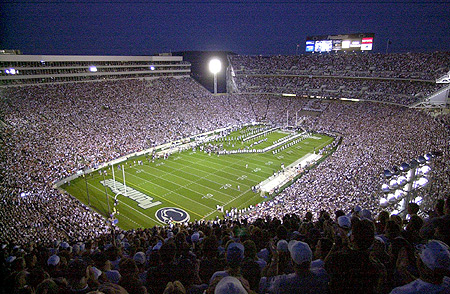 Fine PSU Blogs: Black Shoe Diaries (who has a corresponding Michigan preview); Run Up The Score; The Nittany Line; There is No Name on My Jersey (who also has a corresponding Michigan preview); And many, many more...
A (Very) Little Insight Into The Penn State Nittany Lions
Penn State was a strange team to follow last year. One minute they look like world beaters (Tennessee). The next, Paris Hilton (Notre Dame). For every game Penn State began to look capable (Minnesota) there was a corresponding pounding waiting for them on the other end (Michigan). What was worse, the games where they were in a position to pull the upset (OSU) ended up as convincing losses.
The only consistent offensive threat on the PSU roster was the sorely underappreciated running back Tony Hunt. He's gone now. Top offensive lineman Levi Brown is gone too, and so are the top four members of the defensive line.
Despite the losses to graduation, this a very talented team. Morelli is rumored to be an up and coming senior QB, his receivers are as good as they get, and he's standing behind a veteran line. On defense Penn State sports the strongest back seven in the country. On the defensive line PSU is stocked with high end, young talent ready take the fight to the oppostion.
But Penn State is not without problems. There is no true heir to Tony Hunt's starting tailback slot. The offensive line, while young and experienced lost its lynchpin and is paper thin after a talented set of starters. There is talent on the Defensive line, but its young. The Ends are small and there's nothing after the starters to give any protection to the Linebackers.
If everything comes together, this will be a very exciting team. If not, a trip to the Alamo Bowl is waiting for them.
Coaching
Joe Paterno's first season in Happy Valley was 1966. The same year The Grinch That Stole Christmas premiered on CBS, Barbados joined the UN, Ronald Regan was first elected Governor of California, The Beatles released Revolver, and Busch Stadium opened in St. Louis. For the record, Regan is dead, most of the Beatles are too, and Busch Stadium was detonated last year. He's old.
Paterno's also a damn good coach. Despite calls for his resignation following three substandard years, Paterno led Penn State to an 11-1 season in 2005-2006 which culminated in a 26-23 Orange Bowl victory, a #3 ranking, and a National Coach of the Year award for Joe Pa. Recruits love him. So does the media. People love to play for him. He is in essence, a college football icon.
However, to be an icon you've gotta have a flaw or two. Joe's is his son Jay. Jay Paterno (aka "The destroyer of Hope") has been ruining quality quarterback recruits since 1999. Despite being a quarterback rich state, quality HS QB's seem more willing to sign up for military service, in Columbia, while wearing a sign that says "NARC" on it, than have Jay Paterno coach them. When he's not ruining good young arms, he's scaring off die hard recruits that actually WANT to go to Penn State. He'd be the northern version of Jeff Bowden, except Jeff Bowden no longer works for his dad. I'm just sayin...
The rest of the coaching staff is capable and competent. Offensive coordinator Galen Hall who arrived in 2004 can be credited with reviving a dead offense and finding someway around Jay Paterno. On Defense, Linebackers Coach Ron Vanderlinden gets the credit for turning Penn State back into Linebacker U and DB's coach Brian Norwood has helped the secondary considerably.  It's a good a coaching staff as you'll find in the country.
Offense
Last year PSU was a run oriented offense. Despite the presence of big-armed Anthony Morelli, the offense seemed to lack the ability to air it out when it needed to. Part of this was the result of an inexperienced Offensive line, part was Morelli's decision making, but the majority was the presence of Tony Hunt at running back. Hunt is gone, as is O-Line lynchpin Levi Brown. Penn State's passing attack will be called on to carry much more of the load this year, but without the emergence of a running threat, it could be a long year of face plants for Morelli.
QB
Arguably the strongest arm in the Big Ten is attached to empty husk that is Anthony Morelli. Blessed with the mobility of a three legged shitzu, Morelli lives and dies by his ability to throw a football a very long way. His undoing last year was a tendency to hold the ball too long, and an inability to hit the short routes consistently and in a position that allowed his receivers to run after the catch. As a first year starter, Morelli tossed only 11 touchdowns last season while giving up 8 INTs. Morelli, like all first year starters, tended to rely on his arm in situations where he should've used his head. Penn State's Charmin-y schedule allowed Morelli some time to build his confidence against Akron, Youngstown St., Temple and Northwestern. Unfortunately, when faced with the meat of the Big Ten Schedule, Morelli had problems. Wisconsin, OSU, and Michigan held dance dance revolution parties on Morelli's chest when the young quarterback held the ball a little too long.

It's a Michigan Blog. You knew this was coming.
Morelli looked substantially better against Tennessee, but Tony Hunt's 158 yards were the reason he remained upright. This year there is no senior running back to keep the vultures off of him. The pressure is squarely on Morelli's shoulders to not only play better, but to lead the Nittany Lions back to a Big Ten title. If the Capital One Bowl was an indication of improvement, then PSU fans have something to be excited about. However, if Morelli's true performance was masked by Hunt's amazing year, it's going to be a long year in Happy Valley. Regardless of the emergence of a running threat, Morelli's still being coached by Jay Paterno. Last year, while decent for a first year starter, was not up to Penn State standards and didn't go far enough to erase the speculation that Morelli is more arm than brains. He'll be improved this year, and Penn State's Quilted Northern of a Schedule (Florida International & Buffalo) will give him a chance to get his feet set before a murderous stretch of Michigan, Illinois, Iowa, Wisconsin, Indiana, and Ohio State. I expect to see improvement, number wise, in Morelli. Mark him down for a 16 TD/9 INT, 2500 yard season, with a completion percentage around 57%. While the numbers will improve, expect the normal fair share of bone headed throws that caused a State fans heart palpations all last year.
Best case: 2nd Team All Big Ten. Worst case: Concussed again against Michigan and highly mobile and strong-arm back-up Daryll Clark takes over. Clark's a capable backup, but lacks experience and has a tendency to rely on his scrambling rather than reading the play.
RB
Penn State's biggest question. Hoping to answer this is Austin Scott who returns from a redshirt year as a Senior. Scott set all kinds of Pennsylvania high school records and is blessed with outstanding speed. Scott was one of the more sought after RB's out of high school, and appeared to be on his way to becoming the next great PSU back. Unfortunately, Hunt's emergence mixed with some disciplinary problems derailed his sophomore and junior seasons. Blowing his knee out didn't help either. Despite all this, Scott returns as PSU most experienced back and the one with the most potential (including a 110 yard game in the Orange bowl against FSU).
Rodney Kinlaw was Hunt's primary backup last year and contributed 198 yards on the ground, but isn't expected to challenge for the starting position. Scott's main competition will come from redshirt Freshman Evan Royster. Royster is a good, old-fashioned power back with good speed, which blends well into the PSU running game. However, after Scott and Royster there's no a lot of quality depth. The last two recruiting classes were noticeably running back deficient and the lack of a OMG back could hurt the Lions this year and next.
Whether Scott's back at 100% is anyone's guess and whether he's capable of picking up where hunt left off is also open for debate. I don't this group will even come close to replacing Tony Hunt's production, but there's enough potential to give PSU an 800-900 yard back this year.
OL
Surpisingly strong this year. Despite the loss of the left side of the line in LT Levi Brown and LG Robert Price, this line should be up to last year's level. PSU loses some depth, but the majority of the top ten is back and the right side of the line will be at the top of the Big Ten. However, if injuries hit, Penn State is in trouble. The middle of the line is strong with Shipley (C), Shaw (RG), and Ohrnberger (LG). All have starting experience and all know the offense.
If there are going to be problems, they'll be at the Ends. Dennis Landolt takes over at RT after backing up Levi Brown at LT. Gerald Cadogan moves over from LG backup to LT starting. Backing them up a two JUCO transfers. Injuries to either starter would be disastrous for PSU, however, again, the first three games of the season should allow PSU to break in their starters without too much trouble before hitting the meat of the schedule.
Depth will be a big question across the board despite a good starting front five. As a result, expect the sack numbers to be about the same as last year (23) and put the 7 sack game down for Oct 27 when OSU comes calling.
WR/TE
Don't let 8 total touchdowns last year fool you, this is a talented bunch. Derrick Williams, Jordan Norwood, Deon Butler, and TE Andrew Quarless are all capable receivers. The issue is when are they going to show it? My money is on this year. Lost in the lack of TD production was the fact this quartet all had more than 40 catches last year and only Quarless had fewer than 400 yards (because, well, he's a tight end). Without a bonafide rushing threat the pressure is truly on PSU's receivers to shine this year. Of the group, Derrick Williams is arguably the most talented of the group. Recruited as the #1 DB in the country, Williams went offense for PSU but hasn't emerged as the star everyone thought he'd be. The most consistent receiver the last two years has been Deon Butler, a two time honorable mention Big Ten recipient. This starting quartet is as good as any in the Big Ten, and while it may not possess an OMG star, on depth and quality they're at the top.  
Unfortunately for Morelli, drops killed him and his receivers last year. When Morelli would get the ball to his receivers concentration lapses would kill a drive. This forced Morelli to press harder and problems snowballed. This year all three starting wideouts are juniors with two full years experience under their belts. I expect a noticeable improvement out of this group. Another reason for this is uber-recruit matchup nightmare 6'3 Chris Bell (redshirt freshman). Decent speed, but BIG with great hands. Fear him.
Defense
Penn State's calling card the last four years. Blessed with excellent lines, the best linebackers in the country, and above average corners and safeties, Penn State's defense WAS the reason the Lions went the to Orange Bowl two short years ago. Last year it held Michigan and OSU in check, while limiting Wisconsin to 13 points. This year the defense replaces a number of parts but is still formidable. Alford, Shaw and Johnson are gone from the D-Line, Posluszny and his impossible to pronounce name are bye-bye, and free safety Donnie Johnson is gone too. The line is suspect, but the rest of the defense makes my skin crawl.
DL
Three sophomores step into the limelight this year and every one of them comes with a strong pedigree. In the middle, sophomores Jared Odrick and Phillip Taylor will plug up the running lanes. Odrick is a tad undersized at 291, but makes up for it with speed and quickness. He's still a bit raw but will get better with playing time. Next to him will be mammoth Phillip Taylor who will demand double teams at all times based on his shear size and reported insane strength. He scares me.
On the ends, Junior Josh Gaines returns and true sophomore Mo Evans takes over. Gaines had a decent year in 2006, but wasn't a standout. Evans played as a true freshman and posted 3.5 tackles for loss in limited playing time. Both players are quick, but both are undersized. Pushing for playing time will be Junior Chris Rogers who made the transition from LB to DE, but hasn't cracked the lineup yet.
Running at the middle of the field will be difficult against PSU. However, the Ends present a problem that I suspect will be either remedied by the coaches' scheming or brutally exploited by their opponents. Depth also will be an issue. After the highly rated front line, there's not a lot of talent to allow a lot of breathers to the big men.
LB
As usual, Penn State has its normal stable of excellent linebackers. Even with the loss of Pozloiaufdoiadfuodsiasky, Dan Connor and Sean Lee remain, tacklers number 2 and 3 on last year's PSU stat sheet. Connor goes from OLB to MLB, with highly touted Tyrell Sales joining Lee on the outsides. Even if one of them goes down, incoming freshmen Chris Colasanti, Nathan Stupar and Andrew Dailey are all capable of stepping in as freshmen and were all top 25 line backing recruits.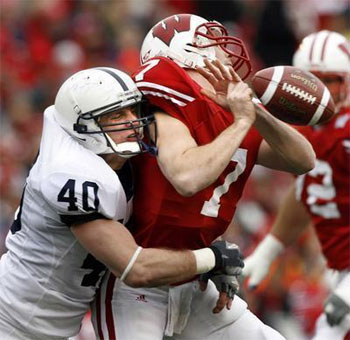 There's really not much to say about this group. They will probably be the best linebacking corp in the country this year. The only area where I've seen them look bad is pass coverage. While this group is excellent and quick against the run, they were exposed in coverage against Notre Dame. If they've cleaned those problems up it could be a long year for their Big Ten opponents.
DB
Looking at the Big Ten's defensive backfields, PSU, OSU and Wisconsin are head and shoulders above the rest of the Big Ten. However, based on returning talent, PSU gets the nod as the best (two months before the season). Justin King is one of the best cover corners in the Big Ten. The six foot junior has the speed to run stride for stride with anyone and a mean streak that I both loathe and admire. Lining up across from him will be equally talented sophomore AJ Wallace. Wallace was the #8 corner in 2006's class. He's got great speed and size, but isn't as fluid as King. Even so, these are a pair of corners any school would be thrilled to have.
At safety Tony Davis and Anthony Scirrotto will patrol the outfield for State. While there is impending legal trouble for Scirrotto, my money's on him being cleared and heading into the season as a starter. Davis led last year's team with 13 pass break ups and is fully capable of coming to the line and running stride for stride with the conference's best receivers. With plenty of recruited talent backing up the starting four, this is probably the deepest portion of Penn State's defense.
ST
Junior Kevin Kelly returns to handle the kickoff and place kicking duties for the Lions. He was 22-34 on field goals, but should improve this year. Punting will fall to either Ryan Breen or Jeremy Boone. I know they exist and that's about it. On returns look for Derrick Williams on Punts and AJ Wallace on kick offs. Both are fully capable of ruining your afternoon.
The Season
Penn State is capable of running the table. Seriously. Wisconsin and Ohio State visit Happy Valley. However, trips to Ann Arbor, Campaign and East Lansing could easily derail this train.
Best Case Season: 12-0, Big Ten Champs outright. The team is capable of it. To do it would require substantial upsets of Michigan and Wisconsin, as well as beating an Ohio State team you'd have to be on mescaline to ignore. But they can do it.
Worst Case Season: 7-5. This also well within the realm of possibility. It all starts well with a 3-0 start including a thumping of Notre Dame. Then the wheels come off in Ann Arbor. Morelli has a difficult game which follows him to Champaign where Zooks boys pull off a substantial "program builder" at Joe Pa's expense. The Lions go on to drop their other "Big Games" to Wisconsin and OSU with a shocker in East Lansing burying the season.
Maize n Brew's 2007 Penn State Football Prediction: 9-3 (Tied 3rd Big Ten)
| | | |
| --- | --- | --- |
| Date | Opponent | Prediction |
| 09/01 | vs | Yeah. Tough game. 56-3. PSU starts off with a victory. |
| 09/08 | vs | Revenge game in Happy Valley. Notre Dame's breaking a new quarterback and basically a new defense. I can't see the Domers pulling the upset short of a total collapse of Morelli's mental state. Two wins for Penn State. |
| 09/15 | vs | The fact their playing Buffalo is embarrassing. And yes I'm aware Appalachian State appears on Michigan's schedule. Still. Buffalo? 3-0. |
| 09/22 | at | Last year's revenge game, take II. I can't see an upset here. To stop Michigan you have to be able to stop the run. Breaking in three new D-Line starters against Mike Hart isn't the way to do it. 3-1. |
| 09/29 | at | Massive trap game. Zook's recruited too good a team. PSU will either be too up or too down for this one. I'll take the Lions, but just barely avoiding the upset. 4-1. |
| 10/06 | vs | Pissed and finally back at home, PSU throttles now Tate-less Iowa. Calls for Ferentz's head begin in earnest. 5-1. |
| 10/13 | vs | Wisconsin's Offensive line mauls State's Defensive line. Jack Igawhatever picks Morelli twice. Close game only because Wisconsin fails to score through the air. 5-2. |
| 10/20 | at | Pure thumping. 6-2. |
| 10/27 | vs | This one is all defense and running the ball. I'm not betting against the sweatervest. Ohio State's Wells goes for 160 and OSU shuts down Morelli. Ugly game, but OSU wins. 6-3. |
| 11/3 | vs | Morelli has the game everyone thought he'd have against OSU. 7-3. |
| 11/10 | at | You're kidding right? 8-3. |
| 11/17 | at | Mark my words. Michigan State will be dangerous at this point. So will Penn State. Barn burner results in a last second PSU win. 9-3. |
There you have it. More later.
Massive Hat Tip to Roll Bama Roll for the HTML code I borrowed stole from their incredible series on the SEC, I Wanna SEC You Up. I couldn't have done any of the cool stuff here without it.