With the NFL combine and, later, the NFL Draft right around the corner, it's time to take a look at the Michigan players who will be up on the big board come April. And speaking of the Big Board, you've gotta look at SBN's
Mocking the Draft
for all the latest updates on Michigan athletes in the 2010 NFL Draft. In reality, there are only three Michigan players that will be drafted.
Brandon Graham
is a no questions asked first round pick (let's be honest, he's the best DE in this draft). The remaining two are Michigan Football's Cornerback
Donovan Warren
and Punter
Zoltan Mesko
. We'll get to Graham, but it's going to be a lot more interesting to see where Warren and Mesko end up. So with that in mind, lets give the uninitiated a little background on Donovan Warren.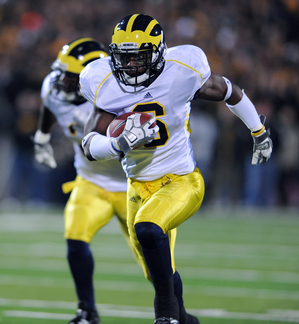 Height: 6'0"
Wieght: 185 pounds
Forty Time: "somewhere in the 4.4's" (I've seen times everywhere from 4.39 to 4.5 and change).
General Dimensions: Warren is a wiry player with long limbs. Similar is stature to another great Michigan corner you might have heard of.
Likes: Hip hop, walks on the beach, Iron Chef America, and movies about karate fighting pandas. (No, not really).
Dislikes: Ohio State, Clowns (one and the same really), Dinosaurs, and Mitch McConnell. (again, no, not really)

The Stats: Warren was a consensus five star recruit who came to Michigan and started at corner as a freshman out of Long Beach Poly, California. He went on to a three-year starter at cornerback for the Wolverines, starting 34 of his 36 career games. Overall, Warren posted 170 tackles, five tackles for loss, one sack, three fumble recoveries, six interceptions and 22 pass breakups in his career at Michigan. His 2009 season was easily the most impressive, posting 66 tackles, 4 INTs and 7 PBUs (leading the team in INTs and PBUs).
Awards: You don't get a lot of awards playing on a crappy defense, but Warren pulled some in anyway. In 2007 he was named a Freshman All American, and in 2009 he garnered All-Big Ten First Team (media) and Second Team (coaches) selections. ESPN's Adam Rittenberg has Warren as the No. 23 player in the Big Ten and the No. 2 defensive back just behind Amari Spievey of Iowa.
The Twitter Summary: For you twitter addicts who require things in 140 characters or less, here you go:
Donovan Warren: tall, physical corner with excellent speed, smooth stride, fluid hips, excellent run support.
Things the Pro Scouts Get Right:
Warren has been universally praised as being an excellent one-on-one corner who also plays solid run defense. Big Ten teams completely stayed away from Warren in 2009. The only times Warren seemed to get thrown at was when DC Greg Robinson had Warren playing off the receiver by 10 yards. However, when quarterbacks and coaches tried to challenge Warren while he was in tight coverage
it ended up costing them the game
.
He probably should've stayed one more year at Michigan. Whether you're talking to Mel Kiper or a GM, every seems to agree that Warren would've been the first corner drafted next year if he'd stayed for his senior season at Michigan.
(More on Donovan Warren's NFL Prospects after the Jump)
Things the Pro Scouts Don't Account For: It's hard to find much I think the real "pros" are wrong on about Warren. Kiper's probably got it right that he's a first round talent that needs more seasoning. That's pretty much my assessment as well. If there's a gripe I have, it's that there seems to be this notion that he's got a penchant for getting beat deep. While it's true that Warren was on the wrong side of a long pass or two, that's it. It's not like the kid was constantly getting torched. I can count on one hand the umber of times he got beat this season. Period.
Sure the criticisms regarding giving up the "Big Play" in 2008 were valid, but he spent 2008 injured, on a defense that changed it's entire premise every week with no safety help at all. Things were so bad that Warren was actually moved to safety for a game in an attempt to stop the bleeding over the top. While Warren's health improved in 2009 safety play didn't. Let's be clear, Warren had no safety help in 2009. When Michigan would try to go to zone coverage, Warren would properly defend his zone only to have the safety blow it by biting on a play action. Warren wasn't a deep liability in any way. He was as good a cover safety as Michigan has seen since Marlin Jackson left for the NFL.
Don't be fooled by Michigan's horrid pass defense last year and think Warren wasn't that good. He was the only consistent defender in Michigan's defensive backfield over the last three years. Every game Warren faced and shut down the other team's best receiver despite having no help over the top.
Thing to Keep in Mind:  Warren has no short term memory whatsoever when it comes to past plays. If he misses something or allows a catch, he doesn't dwell on it after the play is over. He just gets ready for the next play. He's also a rediculously physical corner. The kid loves contact and is one of the best form tacklers Michigan's seen in a numebr of years. In run support he wraps people up. On pass plays he gets those long arms wrapped around the receiver and brings them down. You're not going to have to deal with a kid who is always looking for a knock-out sho in lieu of tackling. Warren gets people to the ground using both arms and great leverage. Warren is immensely talented, but unlike so many talented kids, he simply does not take plays off. Whether he's in deep coverage or supporting on the run, he plays the same aggressive way.
Warren is a player that really is a big play waiting to happen, on the defensive side of the ball. He's great at reading the quarterback's eyes and more importantly has shown the ability to actually read the receiver. If you're looking for any other kind of intangibles, Warren was a leader on this year's defense. He will supply leadership as well as accountability to whatever team he plays for.
If there's a downside to his physical play, it's that in the NFL some of the contact he loves is going to get called as PI. Warren got away with a lot of contact and sometimes some blatant pre-pass wrap ups. It's something that can be coached, but it's also something you need to keep in mind.
Where does he slot in the NFL Draft? Is he Overrated or Underrated? Perusing the interwebz, I've seen Warren rated anywhere from the first round to the fifth. Frankly, anyone rating him later than the third hasn't watched him play. I see Warren as a solid second round draft pick, a clear first round pick if he'd waited one more year. Mocking the Draft has him going 55th to the Philadelphia Eagles.
Here's the thing, Warren is a first round talent. High first round. The downside is he really could've used another year just to grow and get a little more competition under his belt. If a team is willing to give Warren some time to learn, he's going to be somethign special. One thing he's not going to be, however, is a finesse corner. He needs to end up with a team that likes to play physical. The Baltimore Ravens, Philadelphia Eagles, or Green Bay Packers would be a great fit.
So How Does the Combine Help/Hurt Him: Obviously, a poor showing hurts Warren and drops him into the the third or fourth round. But I'd be really shocked if he gacked it up at the Combine. Warren is going into the NFL Combine with a chip on his shoulder and a lot of prep time under his belt. So if he performs as expected, it should confirm his position as a second round pick. If he drops some mind blowing 40 time, he could end up a late first rounder or go early enough in the second for it to make him a little extra dough.
YouTube Summary: Our buddies at Pro Draft Party dot Com put together a nice little montage (plus they have Warren as the #4 DB in the Draft). I think it shows Warren's assets pretty well. He had a little bit of trouble with Notre Dame's talented receiving corps, but frankly giving up a single touchdown on a back corner fade is something that happens even to the best players. The kid is pretty damn good and any team would be lucky to have him.