Maize n Brew gives you your daily (or semi-daily) rundown of all the Michigan Football, Michigan Basketball, College Football, and College Basketball news you need to get through the tedium of your boring desk job. For good measure we'll throw in a little irreverent information, comedy and commentary to help you salt away the time until the clock strikes 5pm.  Want it in 140 characters or less, follow us on Twitter! Or you can find us on Facebook! Here's what's ON TAP: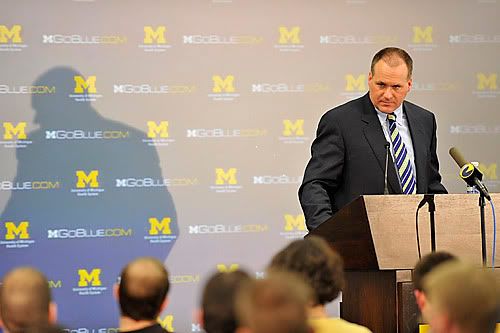 Stuff You Should Read Right Now:
Our colleagues over at Genuinely Sarcastic found a simply awesome you tube on the recovery of Brock Mealer, the brother of Michigan Offensive Lineman Elliot Mealer. Brock was paralyzed in the car accident that took the lives of their father as well as Elliot's girlfriend. For anyone who doubts Rich Rodriguez care about his players or that he means it when he says his team is a family, read and watch this. I'm proud that Rich is our coach. And you should be too.
The Rivalry, Esq. offers ten predictions for the Big Ten in 2010. Yeah. About that. 9 wins for Michigan? Not even I'm that blindly optimistic.
6. Michigan will win at least nine games

I'm being serious. Although the Wolverines hit rock bottom in 2009 -- dropping seven of their last eight contests -- embattled head coach Rich Rodriguez will finally taste success in Ann Arbor in 2010. The introduction of 27 hand-tailored recruits will be the catalyst for a revitalized program. The Wolverines will jump out to a 5-1 start in conference play (8-2 overall) before losing to Wisconsin in Week 11. They'll have the chance to secure a New Years Day bowl bid the following week against Ohio State. And by the way. The "Rivalry" will feature two ranked teams for the first time since 2007.
Podcastin' - I made an appearance on the Michigan Man Podcast last weekend. Part I is here. Part II is here.  
Michigan Basketball:
UM Hoops goes over the aftermath of the most recent Wisconsin beatdown of the Michigan Basketball team. It's hard to say anything new. No bench. No shooting. A "point guard" that play 37 minutes and tallies zero points. A big man that scores 17 points, with 15 of them in the first half. Harris having a bad game. It's just snowballing into a horrific season. At this point no one should be surprised if Michigan misses the post season all together.
John Beilein hasn't seen improvement from Wolverines throughout season. Neither has anyone else. (Zing). It's been one of those years on the hardwood. Personally, I think this is more a depth issue than anything else. As indicated above, we can harp on leadership and everything else, but when you can't bench your starters without immediately going down by 30, it's hard to fix things. via AnnArbor.com
Well, Crisler Arena had some visitors over the last few weeks and some of them took the time to rate it. Lets just say they liked the town moer than the venue.
College Basketball:
Lake The Posts is going nuts right now. After the Northwestern Wildcats' recent Beatdown of Indiana, Northwestern is legitimately sitting on the NCAA buble with the hapless Iowa Hawkeyes next on their plate. Think about it. Northwestern in a New Years Day bowl and the NCAA tournament while Michigan sits at home for both. Never thought I'd see that. But it's not all fun and games. Black Heart Gold Pants recently learned that someone on the Hawkeyes team can actually dunk. And he's melanin deficient! Interesting, but so can Drew Crawford, and he's not.
(more on Michigan Football, signing day and College Football in general after the jump...)
Michigan Football:
Until now I've stayed quiet on the Demar Dorsey flap because I don't think it's something that warrants a response from anyone. The people trying to make this a "story" should be ashamed of themselves for their cynical view of the human race and for their rush to judgment on a kid they've never met. I can't think of anything I've seen that wraps up how I feel about this better than what Genuinely Sarcastic put together. Really makes me wish they wrote more often.
I sense much fear in you. MGoBlog breaks down the coming Spring practice Position Battles on the offense.
Michigan: National Signing Day Evaluation - Nicely, nicely done wrap up of Michigan's recruiting haul. viaThe Rivalry, Esq.
Big Ten Football:
Dr. Saturday takes aim at Ron Zook's continuing decline and the large sword of Damacels hanging over his head after another subpar season in Chambana.
The Only Colors recaps National Signing Day, albeit briefly, National Signing Day for Michigan State. Spoiler alert, Will Gholston is called a "cornerstone".
It's been a while sicne we checked in with our Varmint Cong homies over at The Daily Gopher. Despite not landing Sentrel Henderson (He's back on the market! You've got a chance! Really!) the Varmint Cong did indeed pull in a 2010 Recruiting Class. Shocking I know. FIGHT TRY WIN brought in a decent class, but much like Ron Zook, that uber-recruiter mantle ain't going to buy him too much more time unless these guys come packaged with 8 wins.
Lake The Posts welcomes Northwestern's 2010 recruiting class with a quick wrapup of everyone in the class. Not a bad haul for the 'Cats and everyone is a good fit for Fitz's system. Gotta admit, Fitzgerald is doing an incredible job at NU. I really want to hate the guy, but dammit, I just can't.
Black Shoe Diaries takes a look at Penn State's 2010 football recruiting class. As you'd probably expect, PSU was the unanimous pick for top Big Ten recruiting class this year. Old, brain crazed, and zombified, Joe Pa can still recruit.
College Football:
College Gridiron 365 Blog – Boise State vs. Virginia Tech on Labor Day headlines ACC sked
Boise State and Virginia Tech square off on Labor Day night, Sept. 6, at FedEx Field. Not a bad headliner for the ACC. Personally, I'm rooting for Vech on familial grounds.
10 Reasons To Dislike Lane Kiffin - like you needed 10 more. via The Rivalry, Esq.
Rivals.com takes a (somewhat biased) look at the Top 25 recruiters for the 2010 recruiting season. I'm giving this a grade of FAIL as only one Big Ten coach is listed. Rivals didn't like at of the Big Ten classes this year, despite the fact that Scout and ESPN were substantially higher on those same recruits. Maybe Rivals is right, and we're all screwed. But I'm betting they're wrong as recruiters from Colorado State, Maryland, and UCF are named over other candidates. Plus, what's with ranking two Florida State, two Texas and two Auburn assistants? FAIL.
Superbowl Ring or not, Reggie Bush is still an awful human being.