When I hear people talk about this underdog, or this rags-to-riches Michigan team, I'm forced to scratch my head. Michigan an Underdog? Really? I know the argument. They haven't been great allyear. They've struggled against teams they should beat. They've been soft in goal. Etc. etc. etc. Sure it makes for good copy, but I can't buy it. No matter what the stat sheet says, this Michigan team isn't an Underdog.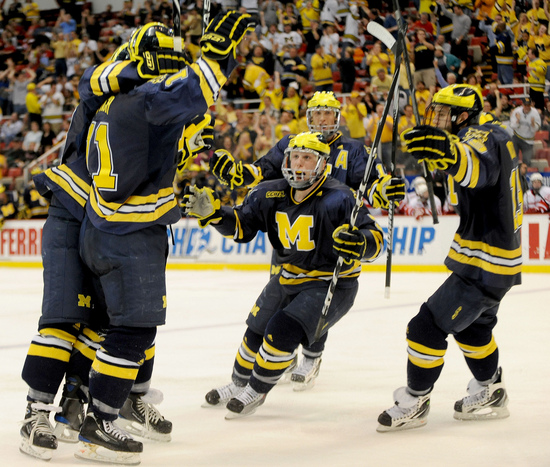 photo via: Angela J. Cesere | AnnArbor.com
Underdogs come from nowhere. Air Force would be an underdog, not Michigan. Your team has to be comprised of nobodies, cast-offs, rejects to be an underdog. Face it, Michigan's players aren't exactly Disney's Mighty Ducks. These are players that could've played anywhere they wanted, but chose Michigan. When I hear people call Shawn Hunwick "Rudy," I wonder out loud if anyone realizes the level of play he faced at Victory Honda, the NAHL, or WOHL. This is not Black Sheep Squadron. This is not Goonies. Hunwick would not be in Ann Arbor, walk-on or otherwise, if he couldn't stop the puck.
However, because this year's edition of Michigan Hockey wasn't the pitiless manical tresher we've all come to know and love, somehow Michigan was no longer the thresher, it was the threshee. It's hard to blame people for reaching that conclusion. After what we've seen on the football field and on the hardwood this year, well, it was easy to think that the flame had finally been snuffed out for one other proud program.
But hockey doesn't work that way. Nearly 20 years on the ice has taught me that.
Let's be clear, I'd been wondered what was happening with this team since they started off the year. Nothing really seemed to click. The normally crisp passes were a foot out of reach. Defensemen were trying too hard to create offense and giving up odd man chances. Forwards were being too cute with toe drags and drop passes when they should've been shooting. Mental discipline was lacking. No one, absolutely no one, knew how to put the puck in the net. Regular-season Bryan Hogan went from savior to post-season Billy Sauer in a heartbeat. And finally, no bounce seemed to go their way. Watching them closer, it turned out that every one on the team was trying to take on the world single handedly. Individuals rarely succeed in team sports, and they certainly don't succeed in hockey at this level. As a result, Michigan was floundering despite it's immense talent.
It didn't help that hockey is inherently an unfair game. You can out chance and out shoot an opponent 3 to 1 and still lose by four goals. You can try to clear the puck only to find it on your opponent's stick half a second later, and then in the back of your goal. You can have every conceivable advantage on the ice, and still get outplayed. All of these things seemed to go against Michigan this season, but to some extent, these problems were self made. It wasn't that players were being selfish, far from it. They simply weren't playing within their own system, abandoning the team concept in an effort help. And all those individual mistakes while trying to do too much had Michigan on a road to nowhere.
Then, somewhere between Indiana and Ann Arbor, something changed. Maybe they realized they had to play differently because of their inexperienced goalie. Maybe they realized the gravity of becoming the first Michigan team to miss the NCAA tournament since 1990. But something changed on that bus ride back. We first saw it against LSSU, as Michigan stifled and throtled the Lakers with tight checking and a barrage of scoring. Then a sweep at Munn, Michigan's first sweep of State in their own building since the first Clinton administration. We all struggled to put a finger on what was different. But then, Red spoke up. Ever since this improbable run began, Berenson has repeated a single phrase. "Everyone has finally bought into the team."
The Team.
The Team concept is what has made Michigan so successful over the years. That concept is why Michigan players are so loyal to the school and one another. The Team means that championships are won not just for these players, but for all the teams that came before them. It's what brings Jack Johnson back to Ann Arbor to play Score-O the day after his GM questions JMFJ's college career. The Team is what makes Michigan special.
Now the Team is back. You can see it in the forwards back checking, the responsible play inside their zone, the quick shifts, and the excitement in their eyes. And in finally returning to the Team, these young men have found new ways to maximize their skills and talent. All of a sudden the shots are on net and the defense has secured it's end. There is a confident goalie in net, irrespective of this height or experience. Now there's a team, rather than a collection of jerseys.
Whether the puck drops on ESPN, Comcast or ESPN360, tomorrow night I'll be glued to whatever glowing screen is available to watch my Team play. They've made it from a lost group of individuals to a Team in Fort Wayne. And win or lose they've made us proud.