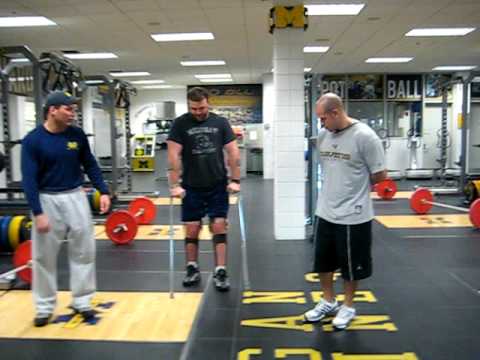 One step at a time, Brock. Impossible is Nothing.
Maize n Brew gives you your daily (or semi-daily) rundown of all the Michigan Football, Michigan Basketball, College Football, and College Basketball news you need to get through the tedium of your boring desk job. For good measure we'll throw in a little irreverent information, comedy and commentary to help you salt away the time until the clock strikes 5pm.  We're on a Facebook and Twitter drive, so be our friend or follow us! If you don't know what that means, you're old. If you want Maize n Brew in 140 characters or less, follow us on Twitter! Or you can friend us on Facebook and become a fan of Maize n Brew on Facebook for more links. Here's What's ON TAP:
Stuff You You Should Read Right Now
UM rehab program sets paralyzed OSU student on his feet - The Toledo Blade continues to monitor the progress of Brock Mealer, brother of Michigan Lineman Elliot Mealer, as he learns to walk again after the car crash that took their father's life. As the Mealer family has long told us, it wasn't until Elliot committed to Michigan that the Scarlet and Grey family even considered Michigan anything but "that school up north." But according to Brock:
"It's not anything I like to flaunt, but it's cool to have people ask about that," Mr. Mealer said. "I always tell them it's a long story. Once they get to know me, they're quite receptive to everything and say, 'I can see why you'd like Michigan."
Think about it. A OSU grad leading Michigan out of the Tunnel. As Brock's shirt says, "Impossible Is Nothing." God's speed, Brock. Can't wait to see you walking on September 4th.
Baseball: Game, Tournament, Season Come to a End - Our old buddy Formerly Anonymous breaks down the 2010 Michigan Baseball season. I wish more baseball writers possessed both the love and skill FA displays here. Charts, photos and commentary galore. A must read.
SB Nation is coming to Detroit! - A big ole meet n' greet on tomorrow. Join your friends from SB Nation and your fellow Detroit sports fans for drinks, food, great sports conversation and free stuff at the Detroit Beer Co. There will be giveaways, great raffle prizes, and a good time in general.  The details:
Thursday, June 3rd, 2010
5:00 - 7:00 PM
Detroit Beer Co
1529 Broadway Street, Detroit, MI 48226
To RSVP to this event (please do if you plan on attending), go here and click on "Yes, I'll attend!"  Even if you can't make it, feel free to go to the RSVP link and click on "No, bummer, but tell me about the next one!" Sadly, I'm out of town for this one, but there will be plenty of Michigan and Detroit Sports fans there. Hope you can make it.
Add 'blackmail' to Kansas AD's rapidly expanding list of tribulations - Dr. Saturday continues to chronicle the rapidly expanding total of disasters at Kansas. A multi-million dollar ticket scandal and now attempted blackmail against the current AD. Jeebus. I really, really feel bad for the Kansas faithful. This just sucks.
THE DEMOCRATIC PEOPLE'S REPUBLIC HAS NO COMMENT - EDSBS on the offseason. Infinite co-sign.
The offseason news cycle usually runs like this: Bowl Recap--->Specious postseason polling and pre-polling---->Recruiting---->Signing Day---->Signing Day eval/crowing--->Spring Practice/Games---->LULL---->Preview season--->FOOTBALL GODDAMN--->Repeat.
Michigan Football
TVH Recruiting Bits: Frost To Camp, Newberry's Connection - TVH at MGoBlog charts the recruiting prospects of several recent visitors to the BBQ at the Big House.
Michigan recruit Shawn Conway didn't think twice about accepting scholarship - AnnArbor.com fluff on 2011 commit.
College football countdown: SN's preseason top 100 - They have Michigan ranked 71st. Seventy-first. Are you out of your mind, Sporting News? You have Duke ranked ahead of Michigan. Along with Temple and Ohio? And Middle Tennessee State? Your press passes and credibility have been revoked.
Rivals release the Rivals100 2011 - There are loads of Michigan targets on the list. Sadly, no commits yet. Hopefully this changes shortly.
Recruiting Cheat Sheet: Meet the new class (yes, already) - Dr. Saturday takes a look through the 2011 Rivals 100. Know your stars and bench warmers of tomorrow, Today!
College Football Expansion
Conference expansion: Big 12, SEC news from spring meetings - Big XII Commissioner Dan Beebe to the rest of the world, "You won't expand at our expense. We'll expand at YOURS! HAHAHA!" He then made the critcal mistake of telling the assembled media that there was a "very high" chance that no one would leave the conference. "Very High". That pretty much encapsulates any description on Beebe from here out. Conversely, he also reminds me of Kevin Bacon at the end of Animal House. "Remain calm! All is well!"
Texas vows not to be left on sideline of conference expansion - Texas athletic director DeLoss Dodds began what could be a pivotal four days of Big 12 Conference meetings with the strongest indication yet that his program will join Missouri and Nebraska in listening to more lucrative offers from other conferences. Basically, he ran over Dan Beebe with a verbal bus.
Conference expansion will be hot topic at summer meetings - PAC-10 next on the long list of Conferences looking to pillage Big XII.
Michigan Basketball
Black Eyes Part II - UMHoops via Ken Pomeroy charts the games where Michigan got its heart ripped out during the 2009-2010 basketball season. The charts track Michigan's percent chance of winning and losing each game at every moment during the game. Stats for masochist.
Random College Football
Sowder: Leach contract suit can advance, throws out other claims against Tech, individual - A Lubbock district judge ruled Tuesday to allow Mike Leach to proceed with his lawsuit against Texas Tech solely on grounds the university may have violated his contract when it fired him. LAWSUIT! PILLAGE! YARRRRRRRRRRRRRRR!
Sources: Tech owes former coach Mike Leach at least $1.7 million - That's a lot of eye patches.