Iowa 40 - Purdue 20
Ferentz Films presents Happy Days for all #Hawkeyes https://t.co/fnFFCCzCun

— Heavens! (@HeavensHawkeye) November 22, 2015
The Hawkeyes flew out to a commanding 20-0 lead before hitting some turbulence that led to ten Purdue points, giving the Boilermakers a faint, but existent, pulse heading into halftime. A field goal followed negative four yards and a punt from the Hawkeyes to start the third quarter, and at 20-13, a Purdue upset was no longer infeasible. Looking to regain their mojo, Iowa proceeded to move backwards again - this time for negative two yards - before punting. The Boilermakers went to work at their own 36-yard line, with a chance to tie the game. Two plays later, they sat at Iowa's 34-yard line. This is where the game ended for Purdue. Three straight incompletions led to three options for the Boilermakers: going for it, a 51-yard field goal attempt, and punting. So obviously the Boilermakers punted #B1G. Yeah, they downed it at the 9-yard line instead of booting it through the endzone, but still, a conversion likely leads to at least three points, keeping the game within reach. Instead, they banked on stopping the Hawkeyes offense, which did not work. Iowa decided enough was enough and drove 91 yards for a touchdown. Down two touchdowns, Purdue made one last push but ultimately fell short after a failed 4th-and-7 attempt at Iowa's 21-yard line. The Hawkeyes responded with another long touchdown drive to put the game out of reach for good.
C.J. Beathard led the way for Iowa on an off day for their rushing attack, completing 12 of 20 passes for 213 yards and three touchdowns. On the ground, Jordan Canzeri received the most work, tallying 95 yards and a touchdown on 13 carries, while LeShun Daniels Jr. found the endzone twice with eight carries and 31 yards. For their part, Purdue pretty much matched Iowa in terms of total offensive output, save for a couple of important factors: efficiency and points scored. Austin Appleby threw for 259 yards and one touchdown on 23 of 40 passing, and Markell Jones led the way on the ground, rushing for 87 yards and a touchdown on 24 carries. The Boilermakers actually gained more net yards on offense than Iowa - 405 to 387 - but it took them 84 plays to the Hawkeyes 59.
The win clinches the B1G West for Iowa, gives them their first 11-0 start in program history, and matches their program record for wins in a season (they won eleven in 2002, '04, and '09 as well). Two more victories will cement this season as the best in Iowa football history and send them to the College Football Playoff. Anything that happens after that should be the sprinkles on top of the icing on the cake for Hawkeyes fans. As for Purdue, well, you can spoil Indiana's chance to go bowling while taking back the Old Oaken Bucket. Oh, and there's always next year. Or the year after that. Or the year after that. Or...
November 22, 2015
Northwestern 13 - Wisconsin 7
This game was ugly, mostly from a Wisconsin standpoint until the B1G refs reared their ugly heads at the end. From the Bucky fans pelting helpless cheerleaders with snowballs, Wisconsin coughing up five turnovers, and the Badgers rushing for negative(!) 26 yards on 26 carries, they had no business being in this game in the final seconds. Yet, there they were, due to a stout defense that forced Wildcats punts and missed field goals for most of the day. Needless to say, scoring was at a premium this Saturday in Madison and only one team scored per quarter. The Wildcats filled the scoreboard in the first two quarters, using a short field to score seven following a Joel Stave interception and a field goal to end the half. The Badgers responded by stuffing a 4th-and-1 attempt by Northwestern on the opening drive of the second half, and five non-negative plays later, they found the endzone. With the score at 10-7, Stave threw his second interception inside the Wisconsin 20-yard line, and Jack Mitchell, who was 1-for-3 on the day, booted a 37-yard field goal after the Wildcats ran seven plays for zero net yards.
Then, after the teams traded punts, the Badgers found themselves at Wildcats 1-yard line with 1:47 left to play. On first down, they appeared to score a touchdown:
This was the Wisconsin TD that was overturned pic.twitter.com/5sAA7qzj9W

— Dr. Saturday (@YahooDrSaturday) November 21, 2015
But it was overturned after review. As a Detroit Lions fan, I've given up trying to understand what constitutes a catch, but that sure looks like one to me. It's a shame the B1G referees are influencing games like this. Regardless, the Badgers did have three more chances to find the endzone, but a sack on second down forced Wisconsin to spike the ball on third. Stave left the game following the hit, and Bart Houston's pass to Tanner McEvoy fell incomplete to end the game.
The story of the game for Wisconsin revolved around Joel Stave and B1G refs. Stave struggled with turnovers in his last start at Camp Randall - two interceptions (at least one wasn't his fault) that led to ten Wildcats points and one fumble that led to a missed field goal - and finished 20/34 for 229 yards. He fell one controversial call away from his 30th career victory under center for Wisconsin. By the time that touchdown catch was overturned, the refs had already overturned two previous Wisconsin touchdowns, including the play prior that put the Badgers at the one-yard line. Even though the first two were legitimate, by the third, everybody in Wisconsin hated the referees, leading to more snowballs:
Wisconsin fans toss snowballs at refs after controversial loss https://t.co/NPcDI56ssi pic.twitter.com/W7muJKBMvg via @SconSportsTalk

— SB✯Nation CFB (@SBNationCFB) November 22, 2015
As for Northwestern, Justin Jackson did most of the work on offense, rushing for 139 yards and one touchdown on 35 carries. With a +5 turnover margin and the opponent running the ball backwards, the Wildcats almost lost this game. This marks their fourth win by single digits in as many games.
Rutgers 31 - Army 21
Here are the quarterback passing stats for both teams:
Quarterback A: 4/6 for 140 yards, one touchdown, and one interception
Quarterback B: 13/21 for 105 yards
Quarterback B is Chris Laviano, who hasn't thrown a touchdown in five straight games. Quarterback A is Chris Carter, a 5'11", 170 lb. freshman making his first career start. Needless to say, most of the offense for both teams came on the ground. For Rutgers, Paul James carved through Army's defense for 116 yards and three touchdowns on 18 carries. Carter carried the load for the Black Knights, tallying 111 yards and a touchdown on 20 carries. Aaron Kemper added 11 carries for 59 yards and a touchdown for Army as well.
Overall, this game was defined by Army missing opportunities and making mistakes while Rutgers took advantage and finished drives. The Scarlet Knights scored seven points following an Army missed field goal on the first drive of the game and seven more after a fumble a few drives later. The Black Knights took some punches but refused to fall down until their final drive. Trailing 31-21, Army started a fresh series at Rutgers 20-yard line with above half of the fourth quarter remaining. After a one-yard loss by Kemper on first down, Carter threw an interception in the endzone, and Rutgers ran out the clock from there.
The win means little for Rutgers, and the same for goes for Army. Both are limping to the finish line in 2015, and neither are going bowling.
Indiana 47 - Maryland 28
In a battle of two B1G-winless teams, Maryland looked to have the upper hand as they sprinted out to a 21-3 lead with touchdowns on their first three drives. The Hoosiers responded, as they are wont to do, with 27 unanswered points heading into halftime to take a 30-21 lead. They accomplished this via Nate Sudfield and an unexpected onside kick after scoring a touchdown early in the second quarter. The Terps looked to keep this a shootout rather than an Indiana romp as Brandon Ross broke a 75-yard touchdown run on the second play of the third quarter. He'd finish with 250 yards and three touchdowns - including the aforementioned 75-yarder as well as a 79-yard run for Maryland's first touchdown - on just 19 carries. Why couldn't Michigan do this? However, Maryland failed to score again, and Indiana found the endzone on their next two drives to put the game away.
On a day where Jordan Howard left with injury after three carries, Nate Sudfeld showed his chops with a final line of 23/35 for 385 yards and four touchdowns. Devine Redding played solid in place of Howard, totaling 130 yards on 24 carries. For Maryland, Ross carried the entire load on offense as Perry Hills missed the game with mono, and Caleb Rowe struggled before being replaced by Shane Cockerille in the second half. Rowe threw for 88 yards and a touchdown on 10 of 19 passing, and Cockerille performed the same with 87 yards on 10 of 21 passing.
The win sets up a potential bowl-berth for the Hoosiers next week as they battle the Boilermakers for the Old Oaken Bucket. After starting 4-0 before dropping six straight, a bowl will make the offseason only slightly less disappointing for the Indiana faithful. As for Maryland, they'll be trying to get their first win in conference play in their season finale against Rutgers.
Minnesota 32 - Illinois 23
This game remained close from the opening kickoff to the final kneel down with Minnesota holding a one-score lead for most of the game until they pulled ahead at 32-23 late in the fourth. On offense, it was a showdown between Wes Lunt for Illinois and Shannon Brooks for Minnesota with Brooks serving the knockout punch with a 75-yard touchdown run in the final two minutes. He accounted for three of the Gophers touchdowns and rushed for 174 yards on 17 carries. Lunt led the Illini attack, throwing for 279 yards, two touchdowns, and one interception on 34 of 47 passing. However, turnovers and failing to finish drives in the endzone doomed Illinois. Two of the three Illini turnovers came inside the Minnesota 40-yard line, and the other occurred near midfield in Illinois territory. They also failed to score seven with a first and goal at Minnesota's 7-yard line, opting to kick a 23-yard field goal instead.
The win marks the first for Minnesota under Tracy Claeys and keeps bowl aspirations alive. Both teams will be underdogs in their season finales with Illinois hosting Northwestern and Minnesota welcoming Wisconsin.
Michigan State 17 - Ohio State 14
Do I even need to recap this one? I'm assuming the majority, if not all, of Michigan fans already know about this game due to how it shaped our chances at winning the B1G East. However, I hope for your sake you didn't waste hours of your life watching it because it was an absolute bore of a contest. Weather and coaching dominated from the beginning with Dantonio and Co. showing the Buckeyes how it's done. With Connor Cook sidelined due to a shoulder injury, everyone expected an ever bigger Ohio State blowout. Then the sky decided to rain down in near-freezing temperatures, Urban Meyer chose to ignore his Heisman-level running back, and the Spartans took advantage with a perfect gameplan.
By now you've probably heard how bad Ohio State's offense performed due to both Michigan State domination at the line and baffling decisions by the Buckeyes coaching staff. They totaled an ugly 132 yards of offense, the lowest in Urban Meyer's coaching history and lowest for the Buckeyes since losing to Urban's Florida squad in the '06 BCS title game. It's also lower than any offensive output by winless UCF this year, the team you may know due to a local bar giving away free beer until they win. Ezekiel Elliott finished with 33 yards and 12 carries and proceeded to blast the coaching staff after the game. Both touchdowns for the Buckeyes took advantage of short fields following Michigan State fumbles. As for the Spartans, they ran the ball, then ran it again and again and again. On the day, they called 16 passes to 51 rushes. And while they only averaged four yards per carry, that was more than enough as Ohio State's defense crumbled against the run late. This became apparent on Michigan State's second touchdown drive that started on their own 25 with 3:33 left in the third quarter. 12 rushes and one incomplete pass later, they found the endzone to tie the game. The teams traded punts on the next two drives, but it was clear that the Buckeyes could do nothing on offense. The situation setup perfectly for Michigan State's walkoff field goal.
The win was vintage Dantonio, and in my opinion, his best coaching performance to date. He's had multiple great games, sure, but to do that after losing Connor Cook on the road against the reigning champs and undefeated Buckeyes, you just have to tip your cap and look forward to the potential for Harbaugh doing the same in the near future. The Spartans have lived life on the edge for the majority of this season, and it's only bit them once - with controversy - at Nebraska. Good or bad, they play you close and are always in a position to win. Now they control their own destiny, and a win against the visiting Nittany Lions this week sends them to the B1G championship game against Iowa. And to every Michigan fan screaming/complaining/whining about how Michigan State doesn't deserve it or how Ohio State screwed us by losing ("I can't believe I rooted for Ohio State just to have them lose!!!!"), remember that close only counts in horseshoes and hand grenades. The Wolverines lost on Oct. 17. It's ultimately up to Michigan to ensure that reaching the ultimate goals - a B1G and national championship - remain in our control from Week 1 to The Game. And it's not all bad, Ohio State did lose. Now let's make it two in a row for them on Saturday.
Coming Soon
Iowa at Nebraska
This game comes at you one day earlier than usual on Friday, and in my opinion, holds great potential for an upset. The Cornhuskers have already topped an undefeated team at home, and like that opponent, Iowa allows games to be too close for comfort at times. Nebraska will also be looking to retain the recently minted Heroes trophy. A Hawkeyes win gives them a season-record with 12 wins and sends them to the B1G championship game undefeated.
Nebraska players celebrate with the Heroes Trophy after beating Iowa in OT 37-34. #Hawkeyes pic.twitter.com/8UmAdPymAy

— Charlie Litchfield (@CharlieLitch) November 28, 2014
Indiana at Purdue
The Hoosiers come into this game seeking bowl eligibility and a three-game winning streak in the battle for the Old Oaken Bucket. For Purdue, spoiling their main rival's postseason aspirations remains all that's left for this season. If the Boilermakers make a game of this one, expect a lot of scoring.
The Old Oaken Bucket trophy is awarded in American college football as part of the Purdue-Indiana rivalry #Tradition pic.twitter.com/X1Mwupmgoq

— PASE (@PASEPurdue) October 14, 2015
Maryland at Rutgers
Who cares.
Penn State at Michigan State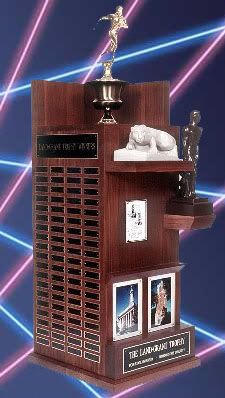 The Land-Grant trophy is a sight to behold and probably the third-best rivalry trophy in existence behind the Little Brown Jug and $5 Bits of Broken Chair trophies. This game means more to the trio of UM-MSU-OSU than it does for PSU, and a Michigan State win sends them to a meeting with Iowa in Indianapolis. A Sparty loss opens the door for whoever won The Game earlier in the day. YOLO Hack is the only hope for an unlikely upset. If he starts bombing completions, the Nittany Lions will have a faint pulse. If not, this will probably be ugly.
Northwestern at Illinois
The Wildcats are looking to end the season on a five-game winning streak after back-to-back blowouts at the hands of Michigan and Iowa. Illinois could prove to be a scrappy opponent as they fight for bowl eligibility on senior day, and considering that Northwestern hasn't won by more than a touchdown in their last four games, anything's possible. I have a feeling this goes down to the wire, and an Illini win leads to a wonderful Pat Fitzgerald meltdown. Oh yeah, and they'll be fighting over the Land of Lincoln trophy, also known as the Hat on a Platter trophy. The Wildcats will look to reclaim the trophy after losing it last year:
#Illini take home Land of Lincoln Trophy w/ win over Northwestern, finish regular season 6-6. http://t.co/Tht3T8zSYC pic.twitter.com/CRSjSmBtnp

— Doug Bucshon (@IllinoisRivals) November 29, 2014
Wisconsin at Minnesota
Copy and paste from above. The Badgers carried a five-game winning streak before losing on a controversial, overturned touchdown call against Northwestern. They'll be looking to head into bowl season on a high note. Like Illinois, the Golden Gophers will be battling for a bowl berth on senior day. Remember: anything's possible during the battle for Paul Bunyan's Axe even if Wisconsin currently holds an 11-game winning streak in the rivalry.
Wisconsin is on an 11 game winning streak vs. Minnesota. Can @GopherFootball keep the Axe this year? #B1GFootball pic.twitter.com/hK9PqlkWJL

— Lindsey Warriner (@lindseywarriner) November 22, 2015